Riding School Times & Tariff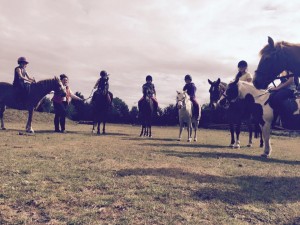 Northbrook is a fun and friendly place to come and ride and to enjoy "horsing around" amongst other equine enthusiasts. Please help us run efficiently and professionally by pre-paying for your lessons and telephoning through any cancellations with as much notice as possible.
Saddlery on site selling all your requirements, including safety gear and clothing for riding. Competitive prices for our clients. Heavily discounted prices for rugs etc. on orders placed.
We take riders from the age of 4. Lessons run Monday to Saturday. We have friendly, very qualified and experienced instructors to teach you at the pace that you require. Our lessons are very well structured for each level of learning, with the added benefit and safety of our indoor arena. Badge Training etc and a very structured method of learning all aspects of horse care is carried out, under controlled and safe supervision under our Pony Club.
We are a work-based Training Centre for Apprenticeships through Haddon Training and Shuttleworth College.
Please inquire as to our "special needs work" and our RDA Charity Groups.
Opening Times – Answer Machine available – CANCELLATION POLICY IS 48 HOURS. CANCELLATIONS ARE NOT ACCEPTABLE VIA EMAIL OR FB MESSAGE
Monday – Thursday: 8:00am till 8:00pm
Fridays: 8:00am till 2:00pm
Saturday: 8:00am till 5:30pm
Sunday: CLOSED (by appointment only) please note, that as stated below, all lessons are paid for in advance.
Private Lessons
Private – Jumping Lesson (45 mins)
£38 members
£40 non members
Children – Private ½ hour
£26.50 members
£28.50 non members
Adult – Private ½ hour
£28 member
£29.50 non members
Group Lessons
Children's – ½ hour lead rein/beginner
£16 members
£17 non members
Children's – hour group
£23 members
£24 non members
Adult – hour group
£26 members
£27.50 non members
Semi-Private Lessons (2 – clients only)
Children – ½ hour
£21 ea. members
£22 non members
Adult – ½ hour
£22 ea. members
£23 non members
Hacking (accompanied with instructor)
2 people or more£27 members
£30 non members
Private hack
£32 members
£36 non members
Mini Private Sessions
15 minutes
£12.50 (ideal for very young children or ideal for starter lessons to prepare for going into a group at an affordable price)
General
Annual membership scheme £20 per year (runs from February)
Birthday Parties (min. 4 children required)
£25 per head
Annual Pony Club Membership
£28 (membership forms and further information on this available in the office)
Own a Pony Day
£46 member
£48 non members (Pony Day price can vary sometimes, depending on the activities happening on the particular event. But price will always be stated on the events schedule)
WE DO OPERATE A CANCELLATION POLICY. WE NEED 48 HOURS NOTICE FOR CANCELLATIONS OTHERWISE LESSON CHARGE WILL STAND. REGULAR GROUPS ARE TO BE BE PAID AND BOOKED, TWO IN ADVANCE. A PRIVATE LESSON NEEDS TO BE PAID FOR IN ADVANCE. CANCELLATIONS MUST BE IN PERSON OR VIA TELEPHONE CALL AND MESSAGE LEFT ON ANSWER MACHINE IF NOT ANSWERED. EMAILS OR TEXT MESSAGES ARE NOT ACCEPTABLE FOR CANCELLATION.