Riding School Times & Tariff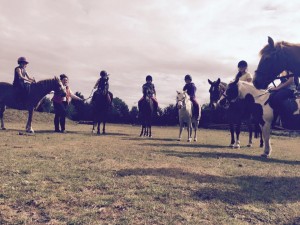 Northbrook Equestrian Centre is a fun and friendly place to come and ride and to enjoy "horsing around" among other equine enthusiasts.
There is a small Saddlery on site selling offering riding hats, body protectors and boots etc. at competitive prices for our clients, along with our Dog Grooming Salon 'Canine Complete Care'
We take riders from the age of 3. Lessons run from Monday to Saturday.  Sundays we are closed and we respectfully ask people not to visit or expect receive an answer on our phone or email on this day. We have friendly, qualified and experienced instructors to teach you at the pace that you require. Our lessons are very well structured for each level of learning, with the added benefit and safety of our indoor arena with training mirrors, plus our spacious outdoor arena.  Pony Club and Badge Training etc are carried out  under controlled and safe supervision.   Health and Safety is of high importance to us; as both children and adults safety comes first!
We are a work-based Training Centre for Apprenticeships through Haddon Training and Shuttleworth College.
Please inquire as to our "special needs work" and our RDA Charity Groups.
PLEASE BE AWARE OF OUR BOOKING POLICY:    LESSONS BOOKED MUST BE PRE-PAID FOR, EITHER BY CASH, CHEQUE OR CARD PAYMENT  AT TIME OF BOOKING.  
CANCELLATIONS:   CANCELLATIONS SHOULD BE MADE 48 HOURS PRIOR TO LESSON FOR US TO CARRY OVER YOUR PAYMENT CREDIT ONTO YOUR NEXT LESSON.  CANCELLATIONS ON THE DAY  OR THE DAY BEFORE CANNOT BE CARRIED OVER – IT MUST BE OUT OF THE 48 HRS
PLEASE DO NOT CANCEL VIA EMAIL OR TEXTS AS THEY ARE NOT AN ACCEPTED FORM OF CANCELLATION. 
PLEASE ALWAYS CALL ON 01480 812654 AND SHOULD WE NOT  ANSWER THE PHONE,  THEN PLEASE LEAVE A CLEAR MESSAGE ON OUR ANSWER MACHINE.  THANK YOU
Opening Times – Answer Machine available (always leave your message whether a booking or cancellation please) 
Monday:   CLOSED FOR BUSINESS
Monday  – Friday: 8:00am till 8pm  (lessons commence from 10am)
Saturday: 8:00am till 5:30pm   (lessons commence at 9am)
Sunday:     CLOSED TO THE PUBLIC
CANINE COMPLETE CARE (DOG GROOMING SALON):  Prices available on the Dog Grooming Page
MEMBERSHIP SUBSCRIPTION IS £25 PER YEAR TO RECEIVE DISCOUNTED PRICES (SEE BELOW)
Send your email enquiry to us at: enquiriesatnorthbrook@gmail.com
Private Lessons:
(ALL PRE PAID.  CANCELLATION POLICY IS 48 HRS NOTICE) 
Children – Private ½ hour flatwork
£37  members
£40  non members
Adult – Private ½ hour flatwork
£38 member
£40  non members
***********
Group Lessons:
Children's – ½ hour lead rein/beginner through to Novice
£24 members
£26 non members
Children's – hour group
£31  members
£34 non members
Adult – hour group
£34  members
£37 non members
**********
Semi-Private Lessons (up to 3 clients)
Children – ½ hour (up to 3 riders)
£28 ea. members
£30 ea. non members
Adult – ½ hour (up to 3 riders)
£29 ea. members
£31 ea. non members
**********
Hacking (accompanied with instructor)
3 people  £40 each
2 people  £45 each
Private hack (one rider with instructor)
£55
(For Health and Safety reasons, we only like to hack out with existing clients that ride with us regularly)
**********
Mini Private Sessions:
15 minutes @ £20 & £22
  (ideal for very young children or ideal for starter lessons to prepare for going into a group at an affordable price)
15 Minutes as a small group £18 & £20 
Birthday Party Packages (minimum of 10 children)
  Duration of 1.5 hours @ £30 per head 
Lovely rosette to all party children – please call to discuss in more detail.  We aim to cater for each party on an individual basis
Own a Pony Day/Northbrook Camp Days 
£65
 ONE AND TWO DAY CAMPS – POA

NORTHBROOK SUMMER RESIDENTIAL CAMP – POA